Edith P. Mitchell, MD, FACP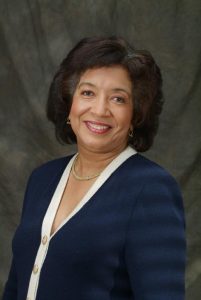 Edith Peterson Mitchell, MD, is Clinical Professor of Medicine and Medical Oncology and Program Leader in Gastrointestinal Oncology at Thomas Jefferson University. In addition, she holds the positions of Associate Director of Diversity Programs for the Kimmel Cancer Center at Jefferson and Director of the Kimmel Cancer Center to Eliminate Cancer Disparities. Dr. Mitchell received a B.S. in biochemistry "with distinction" from Tennessee State University and her medical degree from the Medical College of Virginia in Richmond. In 1973, while attending medical school, Dr. Mitchell entered the Air Force and received a commission through the Health Professions Scholarship Program. She entered active duty after completion of her internship and residency in Internal Medicine at Meharry Medical College and a fellowship in Medical Oncology at Georgetown University.
Dr. Mitchell is a Fellow of the American College of Physicians and a member of the American Medical Association, the National Medical Association, Aerospace Medical Association, Association of Military Surgeons, and the Medical Society of Eastern Pennsylvania. She also belongs to the Eastern Cooperative Oncology Group, Radiation Therapy Oncology Group, National Surgical Adjuvant Breast and Bowel Project, and the Philadelphia Society of Medicine.
Dr. Mitchell's research in pancreatic cancer and other GI malignancies involves new drug evaluation and chemotherapy, development of new therapeutic regimens, chemoradiation strategies for combined modality therapy, patient selection criteria, and supportive care for patients with gastrointestinal cancer. Dr. Mitchell travels nationally and internationally teaching and lecturing on the treatment of gastrointestinal malignancies.
Dr. Mitchell has authored and co-authored more than 100 articles, book chapters, and abstracts on cancer treatment, prevention, and cancer control. As a distinguished researcher, she has received 21 Cancer Research and Principal Investigator Awards, and serves on the National Cancer Institute Review Panel and the Cancer Investigations Review Committee.
In addition to her medical achievements, Dr. Mitchell is a retired Brigadier General having served as the Air National Guard Assistant to the Command Surgeon for US Transportation command and headquarters Air Mobility Command based at the Scott Air Force Base in Illinois. In this capacity she served as the senior medical Air National Guard advisor to the command surgeon and was the medical liaison between the active Air Force and the Air National Guard. Her responsibilities in this role included ensuring maximum wartime readiness and combat support capability of the worldwide patient movement and aero medical evacuation system, the Global Patient Movement Requirements Center and AMC's 52 Air National Guard medical squadrons.
General Mitchell has been awarded over fifteen military service medals and ribbons including the Legion of Merit, Meritorious Service Medal, Air Force Achievement and Commendation Medals, National Defense Service Medal, and Humanitarian Service Medal. Dr. Mitchell was selected for inclusion in America's Top Oncologists.