Jennifer Higgins-Spiers, M.A.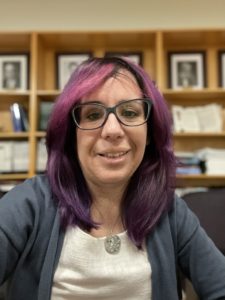 Jennifer Higgins-Spiers was born in Warwick, New York, but grew up in Colonial
Heights, Virginia. She attended Richard Bland College and transferred to
Longwood University, majoring in English. She taught English in China and South
Carolina upon graduating from college. In 2007, she married her husband John,
and they moved to Boston, Massachusetts, where she continued teaching English
until 2010 to pursue her Master's Degree in Higher Education Administration at
Boston College.
Jen is a 13-year stomach cancer survivor. She was 26 years old when diagnosed
(2009). Her cancer was found incidentally and luckily at Stage 1. She had her
stomach removed twice: first as a partial gastrectomy upon diagnosis and the
remaining stomach in 2019 after years of complications. She joined Debbie's
Dream Foundation (DDF) to be an advocate for stomach cancer funding,
particularly as an ambassador for early detection. She is the DDF Massachusetts
East Chapter Leader and a PREP Mentor. She has advocated on Capitol Hill with
DDF since 2020 and has also participated in multiple symposia on patient panels.
Professionally, Jen serves as Education Manager in the Department of Obstetrics
and Gynecology at Tufts Medical Center and was recently elected as a regional
leader for a professional organization in her field.
Jen and her husband currently live in Brookline, Massachusetts. They have a son
named Oliver (born in 2014), who hopes to "defeat stomach cancer forever."