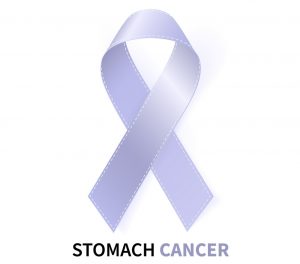 Kary Garcia-Robledo - Springfield  My late husband, Pablo Vazquez, was diagnosed with stomach cancer at age 31. His life was taken away too soon, at age 33, leaving me behind and our eight and 12-year-old children. He first had symptoms in May 2016 and tested positive for Helicobacter pylori (H. pylori). Since he was "too young to have stomach cancer," an endoscopy was not prioritized. When he was finally able to get it in November 2016, we got the unexpected and devastating news that he had stomach cancer in an advanced stage and had spread to the peritoneal area. 
The chemo worked for a year, reducing the tumor to the point that Hyperthermic Intraperitoneal Chemotherapy (HIPEC) was an option. In February 2018, his stomach and four other organs were removed, but the HIPEC was not performed, reducing his chances of prolonging his life. He could eat several meals per day until June 2018, when he could not eat any longer. A trip to the ER ended up in a month at the hospital and three more surgeries. He spent his last month at home under the care of his family until his passing in August 2018.
Pablo had many dreams that he could not accomplish, especially seeing his kids grow, graduate, and get married. During his cancer journey, he was inspired by Debbie's story, and he also wanted to help others going through cancer. I was his voice then, and I want to be his voice now. I am advocating for him and all other cancer patients that can't. We need more awareness and education for healthcare providers and our community. We also need early screening to detect stomach cancer in an early stage. We need more funding for research and more advanced treatments. WE NEED TO FIND A CURE.
Jennifer Higgins-Spiers  – Brookline  My stomach cancer was discovered by accident when I was 26 years old.  In February 2009, I made an appointment with my PCP because I had severe lower left abdominal pain. My complaint of pain led to months of tests that eventually found a polyp in my upper stomach instead.
On July 27, 2009, I got the dreaded phone call. It was Stage T1a adenocarcinoma with signet ring cell features, poorly differentiated. This diagnosis shocked everyone- none of my doctors expected this. I was told that this was one of the most aggressive forms, and I was fortunate to have it caught this early. It rarely happens. On August 27, 2009, I had about 40% of my upper stomach and 10% of my lower esophagus removed at Brigham and Women's Hospital in Boston. I then had a Nissen Fundoplication. Recovery was rough and slow. As the years went on, I had severe acid reflux issues that kept causing benign cell changes to my esophagus. I could only tolerate one large meal a day. But I was alive! After a decade of reflux issues and the fear of developing esophageal cancer, I decided to get the rest of my stomach removed to improve my quality of life. I don't have stomach cancer anymore. But I needed this done because I HAD stomach cancer. On February 25, 2019, I became stomach less (This time at Cambridge Health Alliance with the same surgeon). I didn't have an aggressive treatment journey, but I had to endure a lot. With this more recent surgery, my lung collapsed, I developed a pulmonary embolism (and six months of Lovenox injections!), and my body festered a seemingly never-ending infection. I was hospitalized for three weeks. On top of that, I failed my swallow test and was NPO for a total of 45 days.  I was out of work for 11 weeks, but now I am back to my everyday LIFE with a busy job, my supportive husband, and our wild 5-year-old son.  At the same time, my polyp was found, I was also diagnosed with GERD, a hiatal hernia, and deficient B12/ iron levels. All symptoms of stomach cancer, but cancer was never on anyone's radar.  I would never have been diagnosed if I hadn't been in pain (my answer for this pain came two years later, by the way!). But even running diagnostic tests for stomach cancer symptoms is generally too late for patients who have stomach cancer. What does it take for stomach cancer symptoms to be taken seriously enough at an early stage? If my cancer weren't found so early, I would have a very different story to tell. We need practical early detection tools so that everyone has a chance to survive. I am here to advocate strongly for higher research funding so that other patients don't have to fight for their lives.
Susan Ko—MA In October 2019, my dad was fell ill on a flight overseas.  At first, he thought he might have gotten food poisoning in an airport lounge, but felt so bad after reaching his destination that he returned home early.  He went to see his doctor, who ordered an endoscopy after they figured out he was severely anemic.  The gastroenterologist who did the endoscopy did not see any cancer, but thankfully, he still ordered a few biopsies of my dad's stomach.  The pathology came back positive for cancer.  Even though the prognosis for stomach cancer is grim, at 81 years young, my dad was in the excellent physical condition and determined to fight for my mom, my sister and me, and his three grandchildren.
Coming up with a treatment plan was a nightmare.  I was often on hold with various medical offices for over an hour, and none of them were coordinated with one another.  My dad's first meeting with an oncologist was brief, and the doctor thought my dad's cancer was probably pretty early stage and was very optimistic.  We decided to get a second opinion at the Dana Farber Cancer Institute in Boston.  Our experience at DFCI was night and day compared to his local doctors.  We were seen within a week, and the oncologist spent over an hour with us.  He thought my dad would be an excellent candidate for laparoscopic surgery, which wasn't even an option locally.  He suggested a course of chemo and then a diagnostic laparoscopy in order to confirm the diagnosis before the gastrectomy.  DFCI also suggested genetic testing for my dad to ensure that the cancer wasn't hereditary and tested the tumor for biomarkers before immunotherapy treatment.
The most important aspect of my dad's care at DFCI was having a trusted team of doctors who listened to him very carefully.  My dad was adamant about the quality of life over than quantity, and they honored his wishes in every decision.  He was wary about side effects from chemo, so they started him on Folfox.  When he sailed through the first dose, they switched him to FLOT, which wasn't too rough, either.  They aggressively managed side effects before they even happened.  And nurses were always reachable with questions or concerns, and they returned phone calls promptly.
After my dad's partial gastrectomy, he walked around the floor in about two days, started eating normal food on day 3, and was discharged on day 5.  He managed to walk a mile on the treadmill two weeks after surgery and work out almost daily during treatment.  We were hopeful for a full recovery, until three short months later, we learned that cancer had recurred in his lymph nodes, making him Stage 4.  The statistics were even worse – maybe a 5-6% chance of living one year.
But the landscape for stomach cancer treatment had changed dramatically.  In January 2021, the NCCN recommended immunotherapy for stomach cancer and my dad began nivolumab treatment immediately.  Three months later, his scans could not detect disease.  Now, one year after starting immunotherapy, he is still thriving.  We have learned that one reason for my dad's success is that his tumor has a biomarker that makes it particularly susceptible to immunotherapy. Although he has experienced some side effects, they are well managed.  I believe that immunotherapy is the new frontier for cancer treatment and may ultimately prove to be a cure.  Furthering research, and expanding access to this cutting-edge treatment, is critical.  Everyone with this horrible disease should have a chance to beat the statistics, like my dad!