Help us Turn the US Periwinkle!
We want every state to recognize November as Curing Stomach Cancer Month, so we need your help to make this happen. It is actually much easier than you think to accomplish this. Use the links below to contact your state's Governor and make the request. Once it is declared, don't forget to take a photo holding your downloadable state sign and share it with us on Facebook using the hashtag #CuringStomachCancerMonth or email it to Communications@DebbiesDream.org.
Other Ways to Get Involved
The Power of Periwinkle with My Gut Feeling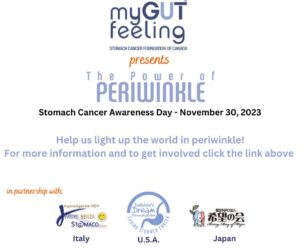 DDF is partnering with My Gut Feeling: Stomach Cancer Foundation of Canada in its annual "The Power of Periwinkle" monument lighting campaign. Alongside international allies Vivere Senza Stomaco (Italy) and Kibounokai (Japan), DDF is illuminating over 30 locations across the United States in periwinkle blue, commemorating Stomach Cancer Awareness Day on November 30, 2023.
For real-time updates and confirmed places in Canada, the USA, Japan, and Italy, visit https://www.mygutfeeling.ca/mgf365.
Participate in a DDF event or host your own event.
We make it very easy by providing you with the tools and assistance to host your own DDF event. Contact the DDF Event Manager at Events@DebbiesDream.org or 954-475-1200 for an event application, checklists, and guidelines to assist you.
Shop for a Cause
Create an account that gives back with iGive.com or AmazonSmile.