2022 DDF Dream Makers Miracle Fund 
Debbie's Dream Foundation is proud to offer our  Dream Makers Miracle Fund for stomach cancer patients and families. The initiative is part of our Patient Resource Education Program and aims to spread joy within the stomach cancer community by providing patients and families with bucket-list-inspired experiences. 
*** The 2022 deadline to apply is June 30, 2022.
Kenny's Skydiving Adventure
Debbie's Dream Foundation is proud to have made a wish come true for a 6-year stomach cancer survivor and South Florida native Kenny Rikard. Through our new Dream Makers Miracle Fund, sponsored by biopharmaceutical partner BeiGene, DDF selected Kenny as the first recipient to have one bucket-list wish fulfilled that would create lasting memories.
Kenny was diagnosed in 2014 with stage one stomach cancer. Following several rounds of chemo and a total gastrectomy, he can now eat and do almost anything he had done before. Kenny always dreamed of going skydiving and wanted to find a way to celebrate his 61st birthday and his six years of survivorship.
Kenny is grateful to be a survivor of this terrible disease and incredibly grateful that Debbie's Dream Foundation and BeiGene could help make his skydiving wish come true on Saturday, November 21, 2020. He is particularly proud to have had this experience and to help spread awareness about this disease during Stomach Cancer Awareness Month despite everything happening in the world.
Joey's Disney Star Wars Experience
Debbie's Dream Foundation sent 18-year-old Joey Siwe and his family to Disney World to honor his first stomach cancer anniversary.
For Joey Siwe, a stomach cancer diagnosis was the furthest thing from his imagination as a high school junior. His older brother (Billy) had unexpectedly passed away at age 20 from stage IV stomach cancer a few years prior. To his family's surprise, at 17-years-old, Joey was also diagnosed with stomach cancer in 2019, prompting him to undergo a total gastrectomy in early 2020, removing his entire stomach to avoid the risk of cancer spreading.
An avid fan of Star Wars, Joey's main wish for his first cancer anniversary was to go to Disney World in Orlando, Florida, with his family for the full "Star Wars: Galaxy's Edge" experience. DDF had the honor of making his wish come true.
Debbie's Relaxing Retreat
Two-year stomach cancer survivor Debbie Ross and her husband were sent to Tulalip Casino & Resort in Tulalip, Washington, as part of her wish fulfilled through DDF's Dream Makers Miracle Fund. The couple enjoyed a relaxing one-night stay and dinner for two for Debbie's 54th birthday weekend. Debbie admits that the experience was just what she needed after undergoing stomach cancer treatments and a recent brain tumor removal.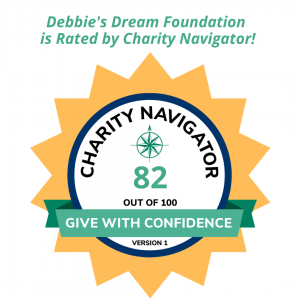 You can "Give with Confidence" knowing that we have been independently evaluated for financial health, accountability and transparency policies to ensure the good governance and integrity of the organization.