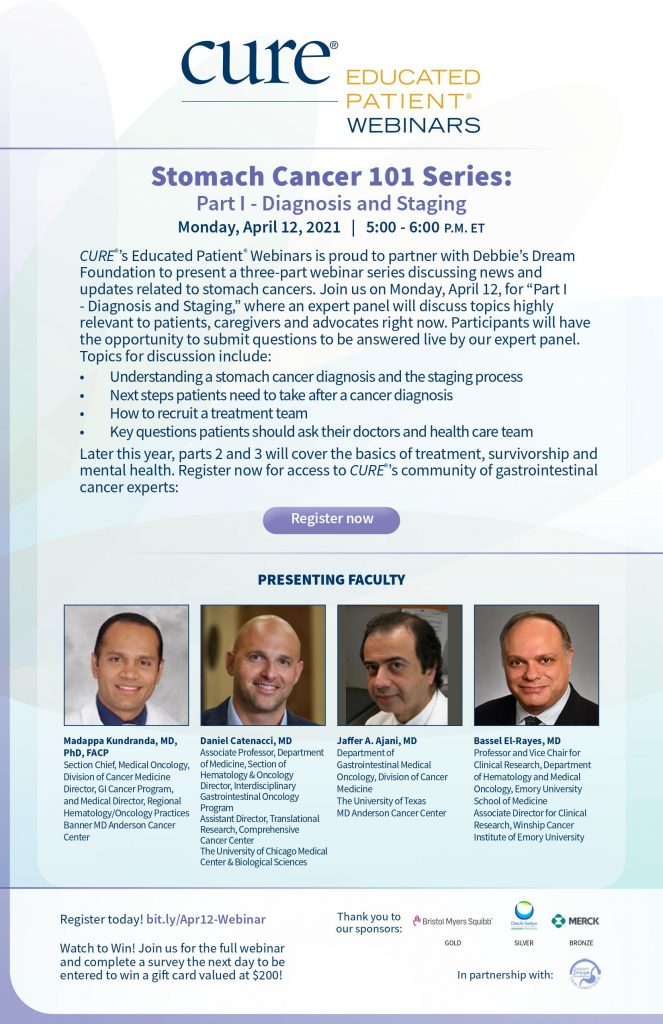 EDUCATED PATIENT® Webinars: Stomach Cancer 101 Series: Part I – Diagnosis and Staging
April 12, 2021—April 12, 2021
CURE®'s Educated Patient® Webinars is proud to partner with Debbie's Dream Foundation to present a three-part webinar series discussing news and updates related to stomach cancers. Join us on Monday, April 12 at 5 pm EST for "Part I – Diagnosis and Staging," where an expert panel will discuss topics highly relevant to patients, caregivers, and advocates right now. Participants will have the opportunity to submit questions to be answered live by our expert panel.
Topics for discussion include:
-Understanding a stomach cancer diagnosis and the staging process
-Next steps patients need to take after a cancer diagnosis
-How to recruit a treatment team
-Key questions patients should ask their doctors and health care team
Later this year, parts 2 and 3 will cover the basics of treatment, survivorship, and mental health. Register now for access to CURE®'s community of gastrointestinal cancer experts.