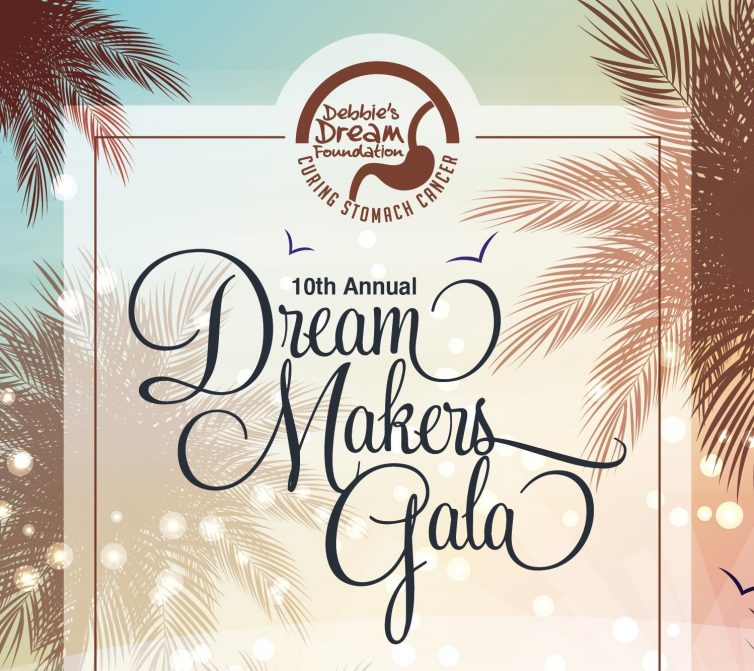 10th Annual Dream Makers Gala
Debbie's Dream Foundation is celebrating the 10th anniversary of Debbie's Dream Foundation: Curing Stomach Cancer at our 10th Annual Gala. The event will start with a cocktail hour and an amazing silent auction, followed by dinner, awards, live auction, dancing, and yummy dessert. Don't miss out on the chance to attend the biggest event of the year!
Event Chair: David Kubiliun
Location: Margaritaville Beach Resort, 1111 N Ocean Dr, Hollywood, FL 33019
Time: 7:00pm – 12:00am
To join the committee, become a sponsor, or for other information, contact us at (954) 475-1200 or at Events@DebbiesDream.org.
Media Release
By attending an event, I grant Debbie's Dream Foundation: Curing Stomach Cancer (DDF) the right to take photographs and videos of me and my family in connection with all DDF's activities including volunteering, attending, and organizing events. DDF may use such photographs and videos of me with or without my name and for any lawful purpose, including for example such purposes as publicity, illustration, advertising, Facebook, and Web content. I authorize DDF, its assigns, subsidiaries, and transferees to copyright, use, and publish the same in print and/or electronically. I relinquish and give to DDF all right, title, and interest I may have in the photographs and videos; waive any and all right to approve the use of such photographs and videos; waive any right to compensation for the publication or other use of said photographs and videos; and release DDF and its agents, licensees, representatives and assigns, from any and all claims of any nature whatsoever arising from their use.