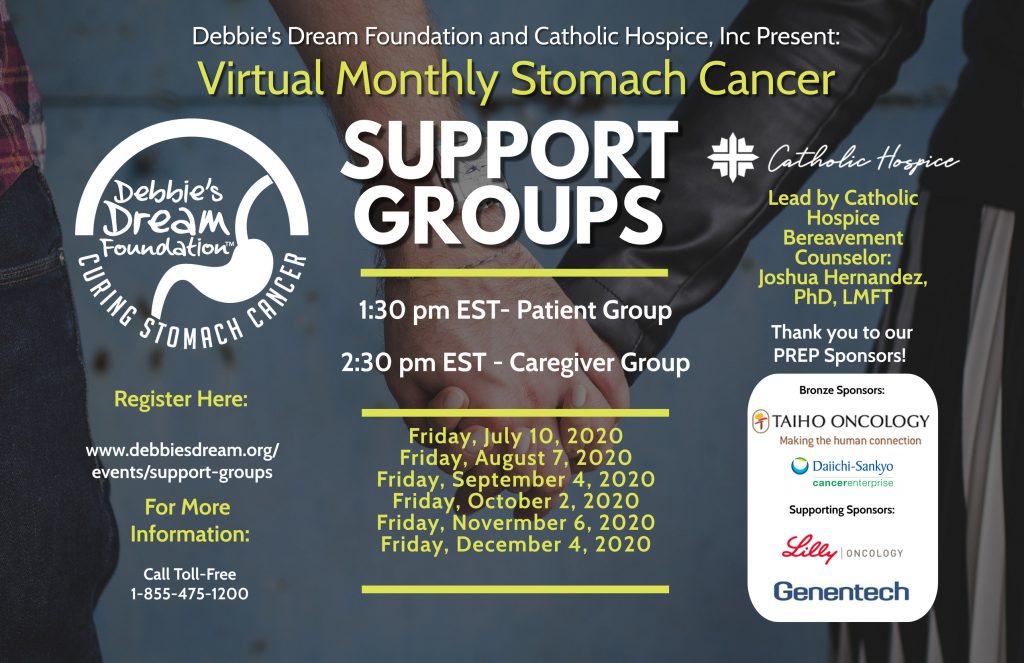 Monthly Stomach Cancer Support Groups
November 6, 2020—December 4, 2020
Upcoming Groups on Friday, November 6, 2020!
Patient Group: 1:30 p.m. EST
Caregiver Group: 2:30 p.m. EST
Debbie's Dream Foundation: Curing Stomach Cancer is proud to partner with Catholic Hospice, Inc. to bring patients and caregivers monthly support groups, with the option of attendance in-person and via teleconference. Live groups will be held at the Debbie's Dream main office (2 South University Dr. Suite 326, Plantation, FL 33324). The monthly support groups are open to the stomach cancer community, where topics will vary by month and by group. Support groups will be held on the first Friday of every month. The patient group will begin at 1:30 p.m. EST and the caregiver group will begin at 2:30 p.m. EST, each at an hour long. Catholic Hospice Bereavement Counselor, Joshua Hernandez, LMFT will lead each monthly group. If you would like to learn more about this program, please contact Programs@debbiesdream.org or call us toll-free 1-855-475-1200.
Topics by Month (Patient):
November: Discovering resources
December: Reflecting on successes
Topics by Month (Caregiver): 
November: Mindfulness techniques
December: Sparkling moments