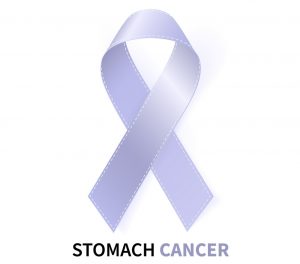 Lisa Bartoszewicz—Wisconsin On my 35th birthday in October 2020, I started experiencing some symptoms of acid reflux and the feeling of food stuck in my throat. I saw my physician, who started me on some medication, but I was still not back to my usual self after a few weeks. My doctor had me tested for H. Pylori right away (negative) and sent me for a few other tests, which suggested that I may have an ulcer. On December 31, 2020, my world changed when I went for an upper endoscopy. The results revealed that there was indeed an ulcer, that I had become anemic, and most shockingly, that there were two tumors in my stomach. My husband and I spent the holiday weekend processing all of this and anxiously awaiting the biopsy results. The following Monday, we got the call that nobody wanted to hear: the tumors were cancerous.
At the beginning of 2021, my rollercoaster journey with stomach cancer began. I quickly learned that cancer had spread to my lymph nodes which unfortunately made it a Stage IV diagnosis. I went through nine rounds of chemotherapy and initially saw some excellent results with the tumors, but the lymph nodes were stubborn. In June, I began mentally preparing for a total gastrectomy. Unfortunately, the scan the week before my surgery showed some disease progression which resulted in canceling the surgery just four days before. I then started on chemo/immunotherapy combo for eight rounds. Again, I saw promising results, making me a candidate for a total gastrectomy. In mid-November, I had my stomach removed, along with quite a few lymph nodes. Since then, I've continued immunotherapy to keep working on cancer still left in the lymph nodes after the surgery.
I'm so thankful that my husband found Debbie's Dream Foundation and suggested I reach out to them. At my initial diagnosis, I felt very lost and alone. DDF and all the fellow stomach cancer survivors I've met through DDF have been extremely helpful and encouraging. As a young mom of a toddler, I didn't fit the typical profile for stomach cancer, but I've been able to connect with others in a very similar situation. I hope my story will help provide hope for others and bring awareness to this aggressive cancer. I wish that medical advances can be made in the near future so I can watch my son grow up.
Jon Florin
Mary Hanley