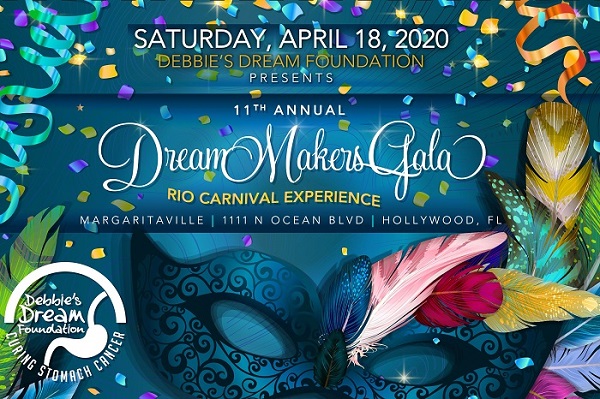 11th Annual Dream Makers Gala – POSTPONED
Dear DDF Supporter,
With the novel coronavirus (COVID-19) now being declared a global pandemic, everyone is at risk. Our team has been closely monitoring all updates and recommendations as being reported by the World Health Organization (WHO), the Centers for Disease Control (CDC), and other government health departments and medical experts. As such, we have decided to postpone our 11th Annual Dream Makers Gala until further notice. The safety of our stomach cancer community, constituents and volunteers is our top priority.
While we do not have a future date confirmed at this time, we look forward to rescheduling this event. In the meantime, all purchased sponsorship, tickets, and ads/tributes will be honored upon the rescheduling of this event, and we will notify purchasers of the new date.
We will continue to monitor the latest developments with the coronavirus (COVID-19), and we encourage everyone to take the necessary preventative actions to protect personal and public health.
Thank you for your continued support and understanding as we navigate these difficult circumstances.
Sincerely,
Andrea Eidelman, CEO
Debbie's Dream Foundation: Curing Stomach Cancer
Click here for Sponsorship Opportunities
Click here to donate an Auction Item
Media Release
By attending an event, I grant Debbie's Dream Foundation: Curing Stomach Cancer (DDF) the right to take photographs and videos of me and my family in connection with all DDF's activities including volunteering, attending, and organizing events. DDF may use such photographs and videos of me with or without my name and for any lawful purpose, including for example such purposes as publicity, illustration, advertising, Facebook, and Web content. I authorize DDF, its assigns, subsidiaries, and transferees to copyright, use, and publish the same in print and/or electronically. I relinquish and give to DDF all right, title, and interest I may have in the photographs and videos; waive any and all right to approve the use of such photographs and videos; waive any right to compensation for the publication or other use of said photographs and videos; and release DDF and its agents, licensees, representatives and assigns, from any and all claims of any nature whatsoever arising from their use.