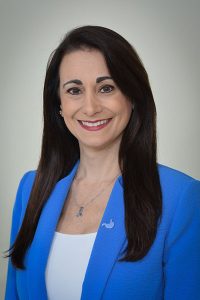 Founding President (1967 – 2017)
Debbie's Dream Foundation: Curing Stomach Cancer, Plantation, Florida
Debra (Debbie) L. Zelman is the President and Founder of Debbie's Dream Foundation: Curing Stomach Cancer. Prior to her diagnosis, Debbie practiced law for sixteen years and had her own firm for ten years in Plantation, Florida. She specialized in commercial litigation, real estate, and corporate work. Debbie received an AV rating from Martindale Hubbell. Her representative clients included Bank of America, BankAtlantic, Great Western Bank, BankUnited, AmeriJet International, Re/Max Hometown, and TimePayment. Debbie closed her law practice in 2008 when she was diagnosed with stage IV stomach cancer.
In March 2014, Debbie was appointed as a Patient Advocate on the National Comprehensive Cancer Network (NCCN) Gastric Cancer Guideline Committee. In January 2012 Debbie made a guest appearance on the Dr. Oz show in an episode titled "The Cancer That is Eating You Alive: Stomach Cancer." She has served as a Patient Advocate on the Esophago-Gastric Task Force of the National Cancer Institute (NCI)'s Gastro-Intestinal Steering Committee since 2012. Debbie was honored by the Boys & Girls Club in 2012 and 2013 as one of the 100 Outstanding Women in Broward County, Florida. She was also honored as Mother of the Year by Healthy Mothers, Healthy Babies in 2012. Debbie is a co-author of the American Society of Clinical Oncology Clinical Practice Guideline Update on the Use of Chemotherapy Sensitivity and Resistance Assays published in the Journal of Clinical Oncology on August 20, 2011. Debbie served on the Walk-A-Thon Committee for the Crohn's & Colitis Foundation of America (CCFA) and was recognized by the CCFA for her extensive charitable work for them. She was chosen to be the Honorary Chairperson for the 2009 CCFA Walk-A-Thon held in Fort Lauderdale, Florida. Debbie was an honoree at the CCFA Evening of Hope dinner in Fort Lauderdale, Florida in November, 2009. In March 2011, Debbie was honored by the American Association of University Women and was awarded the Community Service Star Award. In September 2009, she received the Humanitarian Award from Dr. Charles Lago and Westside Regional Medical Center for her charitable work. Debbie also served as the President and as Vice-President of the Board of Directors of Estates of Stirling Lake Homeowners Association, Inc., is active in the Alumni Admission Network for the Association of Emory University Alumni, and is an alumna of Leadership Miami.
Debbie received her Bachelor's degree from Emory University in Georgia with a dual major in English and Philosophy. While at Emory University, she served on the University Senate and as the Chief Justice of the Emory Supreme Court. Debbie was also a member of the Emory Swim Team. Debbie graduated cum laude from the University of Miami School of Law in Miami, Florida in 1992. While in law school, she was a Moot Court Judge, Student Bar Association Placement Committee Chairperson and the winner of the Advanced Moot Court Competition Winner's Bracket. Debbie currently resides in Davie, Florida. She is married to Andrew Guttman and has three children, twins Rachel and Zachary, and Sarah.