Elizabeth B. Harvey, PhD, MPH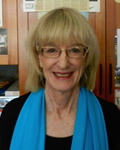 Dr. Harvey's career spans over 40 years of experience in the academic, government and industry cancer arenas. She held academic positions in radiopharmaceutical development at Johns Hopkins University and the University of Maryland. After earning a PhD in Cancer Epidemiology from Johns Hopkins University, she joined the Environmental Epidemiology Branch at the NCI with a research focus on etiology of various solid tumors, including a special interest in genetic effects of radiation and childhood cancer. After serving in a staff position at National Academy of Sciences, Dr. Harvey's interest in immunologic therapy led her to Centocor, as head of the clinical program for monoclonal antibody therapy. She then set up the Oncology Medical Affairs Department at Sanofi playing a major role in the post-approval development of Eloxatin (oxaliplatin) for colorectal cancer. After serving as Senior Medical Director at Genentech, Inc. in the BioOncology Avastin GI program, Dr. Harvey left the industry and founded International Consulting Oncology, LLC.
In addition to her consulting, Dr. Harvey is currently working as a clinical trial interventionalist at MSKCC in the Department of Psychiatry and Behavioral Sciences and has a private psychotherapy practice specializing in cancer patients and their families in New York City.