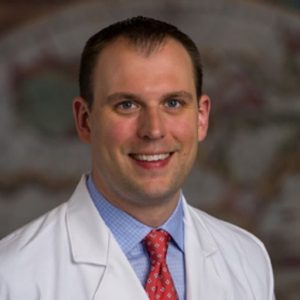 Matthew R. Porembka, MD joined the University of Texas Southwestern Department of Surgery in 2012 in the Division of Surgical Oncology. He is the Chief of Surgical Oncology and Medical Director of the Surgical Oncology Clinics at Parkland Hospital.
Dr. Porembka received his undergraduate degree in Chemistry from the Johns Hopkins University and his medical degree from the University of Pittsburgh Medical School. He completed his General Surgery Residency at Washington University in St. Louis where he was chosen to serve as the Administrative Chief Resident. He completed a tumor immunology fellowship under the direction of David Linehan where he studied the role of tumor induced immunosuppression related to pancreas adenocarcinoma. Following completion of his surgical training in St. Louis, he completed a Complex Surgical Oncology Fellowship at Memorial Sloan Kettering Hospital before joining the faculty of the University of Texas Southwestern in 2012.
The central goals of Dr. Porembka's research are to better understand the biologic basis of ethnic disparity in GI cancers to facilitate better diagnosis, risk stratification, and novel treatments. His specific focus is gastric cancer is Hispanic patients. His research group levered large national databases to better understand epidemiological and treatment trends in gastric cancers, as well as others. In addition, he is a member of several collaborations, both local and international, that focus on translational team science. The main objectives of these collaborations are to 1) better understand the genomic basis of ethnic disparity in gastric cancer, 2) improve current risk stratification models to better inform delivery of multidisciplinary care, and 3) develop animal models to facilitating novel treatment modalities in gastric cancer.