Raul J. Rosenthal, M.D., F.A.C.S., F.A.S.M.B.S.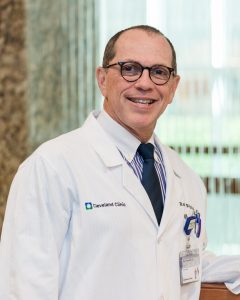 Dr. Raul Rosenthal is an industry leader, prolific author, medical researcher and attending surgeon at Cleveland Clinic Florida, where he has conducted well over 10,000 general surgery and bariatric procedures and trained more than 50 fellows in advanced gastrointestinal, minimally invasive and bariatric surgery.
In 2018, Dr. Rosenthal received the LEAD Award from the American Society of Metabolic & Bariatric Surgery (ASMBS) Foundation in recognition of lifetime contributions to the field of bariatric surgery. Also in 2018, his breakthrough research into the use of indocyanine green fluorescence imaging in laparoscopic cholecystectomy was featured during the American College of Surgeons annual Clinical Congress.
Based on the results of Dr. Rosenthal's multinational, multi-year trial, the use of fluorescence imaging is becoming established as the gold standard of care for minimally-invasive gall bladder removal and other abdominal procedures worldwide.
Dr. Rosenthal completed his medical school and surgical residency in Rosario, Argentina. In 1982, after emigrating to Frankfurt, Germany and repeating a general surgery residency, he became an attending surgeon at the Northwest Hospital. In 1993, Dr. Rosenthal emigrated to the USA, where three years of minimally invasive surgery fellowship at Cedars Sinai Medical Center in LA were followed by a third general surgery residency at Mount Sinai Medical Center in New York City.
After arriving at Cleveland Clinic Florida, Dr. Rosenthal became Chief of Minimally Invasive and Bariatric Surgery and director of the Fellowship program. He has subsequently served as Chief of the Medical Staff, Chairman of the Department of General Surgery, Director of the General Surgery Residency Program and Chairman of the Medical Executive Committee.
Among his professional leadership roles, Dr. Rosenthal served as president of the Society of American Gastrointestinal and Endoscopic Surgeons (SAGES) and the SAGES Foundation; and as a past president of the executive committee of the American Society of Metabolic & Bariatric Surgery (ASMBS) and the ASMBS Foundation.
Dr. Rosenthal is founding Clinical Editor of Bariatric Times and Associate Editor of SOARD and Obesity Surgery. He serves on the Editorial Board member of Annals of Surgery, Selected Readings in General Surgery Langenbeck's Archives of Surgery, and Surgical Endoscopy. He is founding member and a past President of the Fellowship Council and also served as President of the South Florida Chapter of the American College of Surgeons and Governor of the American College of Surgeons.
A polyglot, Dr. Rosenthal is fluent in English, Spanish and German. He has been granted honorary membership by professional organizations around the world, including the Federation of Latin American Surgeons, and the Argentinian, Indian, Peruvian, German and Israeli Societies of Surgery.
Areas of Research and Publication:
Dr. Rosenthal is author or co-author of over 300 abstracts and peer-reviewed publications, more than 30 book chapters and over 100 educational videos. He has contributed over 80 book chapters and is the Co-Editor of several books including the ASMBS Textbook of Bariatric Surgery, Globesity, Netter's Gastroenterology, The Pathophysiology of Pneumoperitoneum, Fluorescence Imaging for Surgeons, Operative Strategies in Laparoscopic Surgery, Weight Loss Surgery and Mental Conditioning to Perform Common Operations in General Surgery Training: A Systematic Approach to Expediting Skill Acquisition and Maintaining Dexterity in Performance.