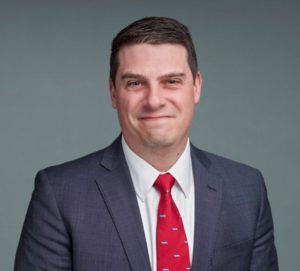 Zachary J. Brown, DO, is an Assistant Professor of Surgery within the Division of Surgical Oncology at NYU Langone Health and the Perlmutter Cancer Center. Dr. Brown is interested in
treating patients with advanced or metastatic cancers originating from the appendix, colon, rectum, small intestine, stomach, and peritoneal surface. As a board-certified surgical oncologist, he is an expert in treating patients with a method known as cytoreductive surgery (CRS) and hyperthermic intraperitoneal chemotherapy (HIPEC).
CRS is a method of eliminating all visible tumors from the abdomen, often requiring removal of the lining of the abdomen (peritoneum) and any involved organs. CRS is usually followed by HIPEC, which delivers heated chemotherapy into the stomach, which aids in treating the cancer cells we cannot see or remove by CRS. With this treatment, we hope to offer patients improved survival that might not be possible with standard chemotherapy. Dr. Brown takes a personalized approach to treating patients, keeping their individual goals in mind and educating patients about their disease process so they may make informed decisions. He wants to give patients a sense of hope and emphasize to them that their disease does not define them.
In addition to treating patients, Dr. Brown believes in the importance of cancer research to improve outcomes for both current and future patients. Dr. Brown has authored over sixty peer-reviewed articles and six book chapters in authoritative journals such as JAMA Surgery, Journal of the American College of Surgeons, British Journal of Surgery, Annals of Surgical Oncology, Journal of Surgical Oncology, Gastroenterology, Journal for ImmunoTherapy of Cancer, and Cancer Cell. He continues to publish and present nationally and is an active Society of Surgical Oncology committee member. Dr. Brown's research is centered on using regional therapies, such as  HIPEC, to treat patients with advanced cancers to understand better peritoneal disease, which may lead to innovative therapies. He is focused on bringing new therapies and clinical trials to patients with peritoneal metastases to offer hope to patients who may be out of standard treatment options.
Before joining NYU, Dr. Brown completed his general surgery residency at Rutgers Robert Wood Johnson Medical School as well as fellowships in Tumor Immunology and Surgical Oncology at the National Cancer Institute, National Institutes of Health (NIH/NCI) and a fellowship in Complex General Surgical Oncology at The Ohio State University and The James Cancer Hospital where he received specialized training in treating patients with advanced and metastatic cancers. Dr. Brown enjoys working within a multidisciplinary team at NYU and the Perlmutter Cancer Center to provide his patients with the best comprehensive cancer care.