Here is information about stomach cancer, risk factors, symptoms, screening, early detection, diagnosis, staging, choosing a treatment facility, treatments, chemotherapy, surgery, radiation, molecular testing, genetics, clinical trials, and what's new in the diagnosis and treatment of stomach cancer.  If you have any questions, contact our office at (855) 475-1200 or email us at Patient.Resource@DebbiesDream.org.  All services are free and we would be happy to help!
Stomach (gastric) cancer – those that begin in the stomach or the junctions of these two organs – is the second leading cause of cancer death in men and fourth among women worldwide. Each year nearly 950,000 people worldwide are diagnosed with stomach cancer, and approximately 700,000 die of the disease. Approximately 28,000 Americans will be diagnosed with stomach cancer each year and over 11,000 will die within a year. While the incidence of stomach cancer has been dropping steadily in this country since World War II, it remains a major global health problem and is estimated to be the fourth most common cancer worldwide and the second leading cause of cancer deaths. Japan, China, Korea, Taiwan, Costa Rica, Peru, Brazil, Chile, and the former Soviet Union all have a very high incidence of gastric cancer. This high incidence is believed to be related to eating a diet consisting of heavily smoked, salted, and pickled foods.
Stomach Cancer Guidelines for Patients
Debbies's Dream Foundation: Curing Stomach Cancer has partnered with the National Comprehensive Cancer Network to provide the most up-to-date guidelines for patients. NCCN Guidelines for Patients®, patient-friendly translations of the NCCN Clinical Practice Guidelines in Oncology (NCCN Guidelines®), are meant to help patients with cancer talk with their physicians about the best treatment options for their disease.
2023 NCCN Stomach Cancer Guidelines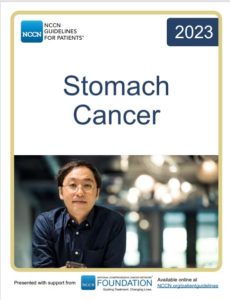 2022 Esophageal Cancer Guidelines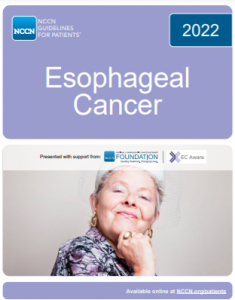 2021 Stomach Cancer Guidelines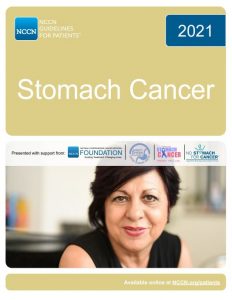 2019 Guidelines
Additional Downloads
Download: What You Need to Know About Gastric (Stomach) Cancer - Patient Education & Empowerment Series >
Help us educate & inform.
Your donations make the difference.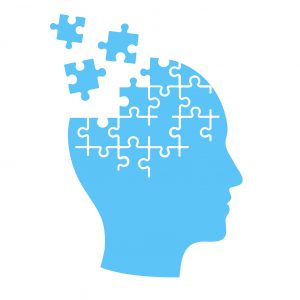 Cancer and the treatments for cancer can cause many side effects that all patients and caregivers should be aware of. Relieving side effects, also called symptom management, palliative care, or supportive care, is an important part of cancer care and treatment. Talk with your health care team about any symptoms you or the person you…
Read More