Raising Awareness. Funding Research. Supporting Patients. Achieving the DREAM!
Dream BIG Legacy Luncheon
Join DDF as we host our 4th Annual Dream BIG Legacy Luncheon on Wednesday, November 7, 2018 to advance funding for stomach cancer research, raise awareness, and remember DDF Founder Debbie Zelman. Guests will enjoy a fabulous silent auction reception, a delicious lunch and more.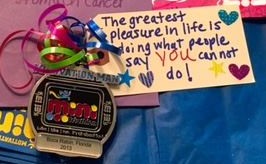 As a symbol of strength and love, Blake Starr recently presented DDF President and Founder Debbie Zelman with a medal encouraging hope throughout her life journey. Representing We Finish Together, Blake collects and distributes donated medals to those who need a little extra inspiration and hope. If you would like to donate your used medals,…