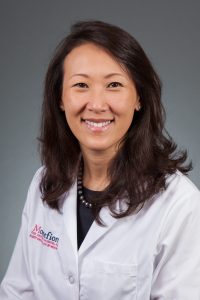 I am honored to join Rutgers Cancer Institute of New Jersey as a surgical oncologist specializing in upper gastrointestinal cancers, a cancer health services researcher, and the Associate Director of Diversity, Equity, and Inclusion for the Cancer Institute. I hold a joint faculty position as Associate Professor of Surgery at Robert Wood Johnson Medical School, and Associate Professor of Biostatistics and Epidemiology at Rutgers School of Public Health.
My clinical expertise and research interests are dedicated to improving the quality of care in the outcomes of gastrointestinal (GI) cancer patients, including stomach, esophageal, pancreas, and peritoneal surface malignancies. Clinically, my focus has been in providing state-of-the-art, minimally invasive surgeries, particularly for stomach cancer, while adhering to the most rigorous of oncologic surgery principles to provide those with cancer the greatest chance of cure. In addition to complex surgical oncology training at the University of Chicago, I also I have obtained additional training in the oncologic principles and the surgery of gastric cancer with world-renowned surgeons at Seoul National University Hospital in Korea and Cancer Institute of Japanese Foundation for Cancer Research in Japan to provide the best in cancer care for my patients.
As a cancer researcher, I am interested in developing and implementing strategies to improve gastric cancer outcomes in the US, reduce cancer mortality, improve outcomes in cancer surgery, and reduce disparities in health outcomes for gastrointestinal cancers. My ongoing work includes understanding the epidemiology of gastric cancer in minority populations the U.S., identifying high-risk biomarkers for early detection of gastric cancer, and developing strategies to effectively deploy gastric cancer screening for high-risk populations. My research also focuses on developing systems interventions to reduce disparities in the quality of cancer care, including the underuse of surgery for GI cancers in socioeconomically challenged persons and inappropriate triaging for cancer patients resulting from poor access to care. I have authored more than 50 peer-reviewed publications. My research has been funded by the National Institutes of Health, National Cancer Institute, Alliance for Clinical Trials in Oncology, and society grants, including the Society for Surgery of the Alimentary Track.
I am a member of national and international organizations including the American Association for Cancer Research, Alliance for Clinical Trials in Oncology, American Society of Clinical Oncology, Society of Surgical Oncology, American College of Surgeons, Association for Academic Surgery, Society for Surgery of the Alimentary Track, and International Gastric Cancer Association. I am involved with setting standards for cancer care, and serve as an expert panelist and key contributor for upper gastrointestinal cancers for the American Joint Committee on Cancer (AJCC), which develops the staging systems of the AJCC staging manual; and serve as a member of the Chicago Consensus Working Group which develops multidisciplinary recommendations for the management of peritoneal surface malignancies.
I obtained my MD degree from Dongguk University in South Korea. I completed surgical residency training at Boston Medical Center in Boston, MA, followed by surgical oncology training at the University of Chicago in Chicago, IL. I have completed two research fellowships, one at the combined Harvard Medical School and its affiliated hospitals (Brigham and Women's Hospital, Dana-Farber Cancer Institute, Massachusetts General Hospital) and at the American College of Surgeons where I examined public health policy and quality improvement for cancer patients. I also hold a Masters in Public Health degree from Harvard School of Public Health and a Masters in Business Administration degree in Healthcare Management from Boston University. Prior to joining Rutgers Cancer Institute, I was at Albert Einstein College of Medicine where I was an Associate Professor of Surgery and Epidemiology and Population Health, and also held the position of Director, Surgical Resident Research at Montefiore Medical Center.