Heinz-Josef Lenz, MD, FACP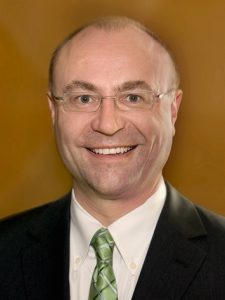 Dr. Heinz-Josef Lenz earned his M.D. degree at Johannes-Gutenberg Universität in Mainz, Germany. In 1991 he completed his internship, residency and fellowship training at the Eberhardt Karls Universität in Tübingen, Germany. He obtained special fellowship training at Universität Wien (Austria), George Washington University, and Harvard Medical School. In 1991 he received the prestigious Research Fellowship Award from the "Deutsche Krebshilfe" (Bonn, Germany). He completed his research fellowship in biochemistry and molecular biology at the USC Norris Comprehensive Cancer Center before joining the USC faculty in 1994. He received both a STOP CANCER Career Development Award (1994-1997), and based on his research, an ASCO Young Investigator Award in 1994. In 1995 he was selected for the prestigious ASCO Career Development Award.
Dr. Lenz is a physician-scientist known for his work on the pharmacogenomics of GI cancers. He is the Principal Investigator of the NCI UM1CA186717 (PIs: Lenz-USC; Newman-City of Hope), the USC PI of the Phase II contract (N01CM-2011-00038, PI: Gandara-UC Davis), and PI of the U10CA058882 SWOG, also serving as the SWOG Co-Chair of the GI Committee and Correlative Science Committee. In addition, Dr. Lenz is a member of the NCI Task Force of Gastroesophageal Cancer, the NCI Steering Committee, and NCI Translational Science Committee.