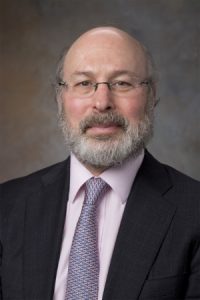 Dr. Howard Hochster serves the Yale Cancer Center as Associate Director for Clinical Sciences. Dr. Hochster has a long record of clinical trial experience and publications relating to new drug development in medical oncology. He has published widely on the use of topoisomerase-1 inhibitors and developed pharmacodynamic measures in conjunction with improved drug scheduling. He was awarded an R0-1 for these studies. He has also investigated intracellular pharmacology of gemcitabine metabolism in clinical trials using PBMC tissue and 19F Magnetic Resonance Spectroscopy (for which he was awarded a second R0-1 grant). He has published numerous phase II and III trials, both investigator- initiated and through several cooperative organizations, where he has been a major contributor. Some of the important developments in GI oncology to which Dr. Hochster has contributed include development of oxaliplatin based regimens for colorectal cancer (including the TREE trial and the recent CONCepT trial on scheduling to reduce neurotoxicity), the first trial demonstrating activity of cetuximab and NCI sponsored phase 2 trials of cetuximab, and use of cetuximab in the TREE trial and others. He currently chairs the AGICC trial with the MEK inhibitor AZ6244 and irinotecan for KRAS mutated CRC and ECOG 7208 for KRAS wild type CRC using irinotecan, cetuximab +/- ramucirumab.
His initial exposure to cooperative groups goes back to ECOG as a fellow, where he collaborated in trials under the leadership of Dr. Franco Muggia. He was the PI for numerous new drug phase II trials in ECOG. Most notably, working with Dr. Michael Green he led a phase II of fludarabine as a new agent. This showed activity in follicular lymphoma and led to a series of phase I/II trials of cyclophosphamide and fludarabine and eventually the large phase III trial of CVP or CF with or without rituximab maintenance (E1496). He has been a member of the ECOG GI Steering Committee for more than 10 years and currently is among the GI leadership at NSABP, where several proposals are under consideration. Dr. Hochster was the ECOG PI for NYU from 1996-2010, which was consistently the main member with affiliates. Dr. Hochster also was instrumental in the founding of two other cooperative groups, including the New York Cancer Consortium, in which he led a number of publications with topotecan infusion. This group eventually led to the NYCC phase 2 N01 consortium under the leadership of Dr. Scott Wadler and now Dr. Joseph Sparano. The group was funded for 3 cycles and produced a major collaboration between New York academic centers over the years of CTEP support. Dr. Hochster was the GI Chair of this group from 2006 until 2011. Additionally, Dr. Hochster helped found and direct the Aptium GI Cancer Consortium (AGICC) along with Drs. Jack MacDonald and Lawrence Leichman, as the executive leadership. This GI cancer phase II consortium was developed to work with industry on translational phase 2 and early clinical trials. Dr. Hochster had the opportunity to work with a number of SWOG key investigators in this group.
Dr. Hochster has also served on a number of important committees. He served 5 years as a grant reviewer for the Clinical Oncology (CONC) study section of the NIH grants division (2005-2011) and was a full member from 2007-2011. He also regularly reviews grant proposals for the State of Texas (CPRIT grants), the Israel Cancer Research Foundation, and for the Chemotherapy Foundation. He has been a member of the ASCO program committee in the GI cancer track (2009-2011) and chaired the track recently (2010). He was a full member of the ASCO publications committee in 2005-2007. While at NYU he mentored two fellows, Dr. Deirdre Cohen and Theresa Ryan, who both remain on the faculty of NYU in GI oncology. Dr Cohen is chairing a national CTEP study of GDC-0449 in gastric cancer.
Dr Hochster leads the clinical research efforts at the YCC. In this role his goals are to improve the research support infrastructure for day to day trial accrual. Over the last two years he has streamlined the protocol development process and regulatory approval process. He has a major focus on extending clinical trial access to the community-based Smilow Care Centers. In the two years since he arrived at Yale, the clinical trial accrual increased from 252 to 474 yearly. Dr. Hochster also was responsible for the successful SWOG application for main membership in SWOG, which now has 130 members. They expect to continue to have increasing accrual to therapeutic trials, reaching 900 patients per year in the next 4 years.
Dr. Hochster has full support of the Yale Cancer Center leadership to devote the time and effort necessary to successfully lead the SWOG GI committee. If appointed he will be fully committed to giving the SWOG GI committee major priority in conducting its activities, working with the leadership of other groups and the NCI GI Steering Committee.