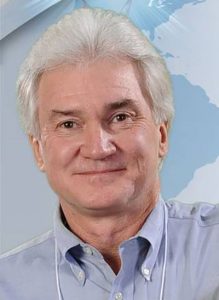 John Nash was born in Memphis, Tennessee on July 20, 1957 to John and Sadie Nash. He attended Christian Brothers High School and Christian Brothers University and graduated Cum Laude in 1979 with a degree in Accounting. John became a CPA in 1980 and later obtained his MBA from the University of Pittsburgh in 1993. In 2002, he joined Amerijet International and currently leads Finance, HR, IT, Accounting, and Credit and Risk Management as the Chief Financial Officer.
Prior to working at Amerijet, John was the President and Chief Financial Officer at Tasco Worldwide. He was also the Chief Financial Officer at Parts Depot in Roanoke, VA.
John enjoys spending time with his family especially his wife Vicki, his children Rachel Dawn and John Robert Jr., his grandchildren Levi and Luci, and the Nash family dogs. When he's not at work or with his family, you can usually find John at the golf course. He also cherishes the friendships that have been made on the course over many years.