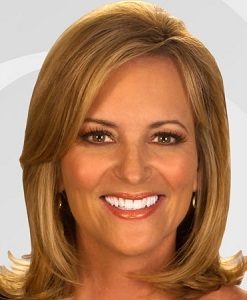 As Entertainment Reporter for CBS4, Lisa Petrillo makes it her business to mingle with the rich and famous. Uncovering the secrets of the stars is what Lisa does best.
During her years as South Florida's premiere Entertainment Reporter, Lisa had the opportunity to interview some of today's most spectacular stars, among them Paul McCartney, Sting, Tom Cruise, Oprah Winfrey, Jennifer Lopez, Arnold Schwarzenegger, Elton John, Tom Hanks, Warren Beatty and the late Audrey Hepburn. It's this part of the job that appeals to her most, namely "meeting incredibly interesting and talented people, then putting together stories about their lives and careers."
In addition to her duties at CBS4, Lisa is also the Miami-based correspondent for the NBC show "Extra."
Lisa is an Emmy Award-winning journalist. She received two Emmy Awards for writing and on-camera performance for her behind-the-scenes series on soap operas entitled "Love in the Afternoon." She received her third Emmy for her CBS4 report on the "Chefs Challenge" in 2005.
In 1996, Lisa was named one of the 10 Best Dressed Women in Miami by the American Cancer Society. She is also actively involved in numerous other charities as well, including the Multiple Sclerosis Society, St. Jude's Children's Hospital, Miami Children's Hospital and the Diabetes Research Institute, among others.
Lisa's professional career began in 1986 as the Communications Manager for the Greater Miami Convention and Visitors Bureau. Later that same year, she began her television career at WPLG as a producer. Her contacts in the entertainment world led to her being named the station's entertainment reporter in 1988. Following WPLG, Lisa became a national correspondent on the NBC show "Real Life." Lisa joined WFOR/ CBS4 in 2001 as Entertainment Reporter. She also covers fashion, travel, and lifestyle segments.
Lisa and her husband Bill have two children. She received her Bachelor of Science in Broadcast Journalism with a minor in Marketing at the University of Miami.