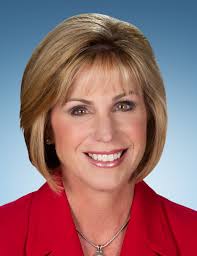 Kristi Krueger has built a solid reputation as an award-winning medical reporter and effervescent anchor. She joined Local 10 as co-anchor of the 5:30 p.m. newscast and "Eye on Health" reporter in August 1993. After many years co-anchoring the 6 p.m. and 11 p.m., Kristi now co-anchors the Local 10 Noon News.
In addition to her anchoring duties, Kristi specializes in medical reporting in "Kristi's Good Health" segments. As a mother, Krueger understands the importance of receiving useful and timely health news striving to bring viewers cutting-edge information that allows them to make informed choices about their well being.
Kristi began her broadcast career at WWSB, in Sarasota. In September 1988, she was promoted to co-anchor of the weekday 6 p.m. and 11 p.m. newscasts. In 1990,Krueger became the weekend anchor and medical reporter for WDIV-TV in Detroit, Michigan before heading to WPLG.
Kristi's many awards and honors include:
2011 "National Television Academy Silver Circle Award"
2010 "The Deborah Natansohn Award" for her contributions to women's health and wellness.
2009 "Gold Coast Emmy Award for Health/Science/Environment category. Title: Amazon & Beyond.
2008 The University of Florida "Alumnus of Distinction" of the College of Journalism and Communication
2006 "Best Large Market" media award given by the Florida Heart Association for a report "Save at Port Everglades"
2005 "Outstanding Mother" by the Healthy Mothers-Healthy Babies Coalition of Broward County
2005 "Best Large Market" and "Best in Show" media awards given by the Florida Heart Association for a two-part report "Cardiac Arrest"
2000 "Woman of Vision" by the Weizmann Institute of Science
1999 First Lady of Broward
1998 "Gold Coast Emmy Award" for her groundbreaking report on the possible side effects of the required Hepatitis-B vaccine.
1998 "Favorite Female Anchor" by the Sun Sentinel Newspaper
1997 "South Florida's Ten Best Dressed Women" by the American Cancer Society
1997 "Florida Cancer Communicator" award
1997 "Excellence in Journalism" award from Florida's Association for Retarded Citizens
1996-97 "Florida Heart Association Outstanding Media Service" award by the Florida Medical Association
1990 "Woman of the Year" Sarasota, Florida
1990 "First Prize" in the Florida Medical Association contest for her work on Cosmetic Surgery: "The New Beauty Basic.
1990 "Detroit Broadcaster of the Year" award finalist
1988 "First Place" by the Florida Medical Association Award for her series "Nurses Needed: Stat."
Krueger was born in Fresno, California but grew up in many places since her father was a football coach. Her father's career took her to Long Beach, California, Illinois, Utah and Tampa. She is married to Todd Templin, Vice President of Boardroom Communications, a South Florida Public Relations firm. Todd and Kristi have two children, Troy and Kelsie.
Kristi is very active in the community, serving on the Board of Directors of the Pembroke Pines Theater of the Performing Arts, the Epilepsy Foundation of South Florida, and volunteers as a lector at St. Paul Lutheran Church in Weston as well as at her children's school.