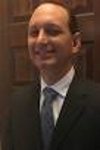 Saul Kravec is a Vice President of Sales for Elizabeth Arden Inc., a publicly traded beauty company known worldwide for the manufacture and distribution of top quality fragrances, cosmetics, and skin care. He has worked for the company since 1989. Saul specializes in maximizing sales opportunities as well as developing and executing entrepreneurial solutions to inventory management issues.
Saul is an active leader at Temple Kol Ami Emanu-El, one of the largest and most prominent reformed Jewish congregations in Florida. He served as president of the synagogue from 2010-2012 and currently chairs its land planning committee and is a member of the temple's foundation board. Saul has taken a particular interest in matters concerning the well being of children and young adults. He headed the temple's fundraising campaign to build a new early childhood school complex, and he has volunteered on behalf of several youth organizations serving as a current events teacher, Big Brother, and Plantation Athletic League coach. Saul has also been involved in Hillel, an organization dedicated to enriching the lives of Jewish college students around the world and was honored by the Florida Hillel Council as its MVP in 1999.
Saul graduated from Brandeis University in 1985. He majored in politics and Latin American studies and then earned a law degree from the University of Miami in 1988. While in law school, Saul was president of the university's Jewish Law Students Association, an executive board member of the National Jewish Law Students Association, and the chairperson of the school's United Jewish Appeal campaign. Saul was admitted into the University of Miami Law School's Society of Bar and Gavel for his leadership and community service.
Saul was born and raised in Miami Beach and currently resides in Davie, Florida with his wife Beth and their two children Lauren and Matthew.