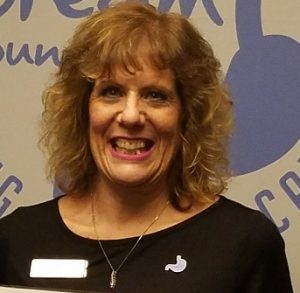 Melani Vincelli is a strong advocate and voice of the stomach cancer community. Following her stomach cancer diagnosis in 2009, she met Debbie's Dream Foundation Founder Debbie Zelman on the set of the Dr. Oz Show as they both participated in a 2012 segment titled, "What's Your Risk for Stomach Cancer?" Shortly after, Melani joined forces with DDF as a mentor in the Patient Resource Education Program (PREP) where she provides a point of contact for patients seeking care and comfort for their cancer experience. As a PREP mentor, she helps patients understand their diagnosis, staging, treatment options, clinical trials, side effect management, research, management of the disease, and more. She helps to guide the patient through their cancer journey by relying on her own experiences as a stage IV stomach cancer survivor and BRCA2 positive woman. For the past six years, Melani has traveled to Capitol Hill to ask Congress to invest more federal resources in gastric cancer research and to again include stomach cancer as one of the eligible cancer types under the PRCRP during DDF's Annual Capitol Hill Advocacy Day. She also serves as a mentor and advocate for several initiatives including the 4th Angel Mentoring Network sponsored by Scott Hamilton and Cleveland Clinic, Facing Our Risk of Cancer Empowered, the GEC Esophageal and Stomach Cancer Project, and Imerman Angels Cancer Support Community.
Read more about Melani's Survivor Story here.
Watch the full Dr. Oz "What's Your Risk for Stomach Cancer?" episode here.